Rich Interactive Experiences
T&B Technologies creates websites and other online content that provides rich interactive experiences for your customers highlighting your business's capabilities and products. We work with you to determine the important and unique aspects of your business or organization then create a marketing plan that drives customers to you.
Custom Designs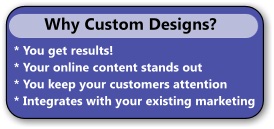 We do not use templates or automated designers, we custom build the code so that your online content is unique and stands out from that of your competitors. Your customer's ability to view your online content is very important, so our content is designed to work and look great on all major browsers and smart phones. This assures that your customers can get to your information with the platform they prefer to use.
Great Pricing
We provide online services at very reasonable prices, particularly our website packages that combine website design, hosting and updates. Our pricing is also very flexible from fixed rate pricing to lead based pricing we can create a plan that fits your budget
Website design

* Requires a two year commitment.
** In addition to the standard package the deluxe package also includes communication features that
allow customers to directly communicate with you through the website.